Zenitizer is a clean and simple meditation timer designed for unguided meditations on iPhone, Apple Watch and iPad.
It offers customizable background sounds and interval bells and helps users cultivate a regular practice via daily meditation goals and streaks.
Marketing Copy
Ready to take the next step on your meditation journey? Grow as a meditator through unguided meditation with Zenitizer.
Be In The Present Moment: Interval bells gently remind you to return your focus
Pocket-Sized Meditation Retreat: Immerse yourself in calming soundscapes
Meditate Your Way: Create routines that work for you
Find Balance & Calm: Make daily meditation a habit
Stay Motivated: Track your progress with widgets and Apple Watch complications
Meditate Anytime, Anywhere: Your meditation companion always in your pocket, on your wrist or on your HomePod
Your Daily Routine: Mindfulness in everyday life through deep integration with Apple features (e.g. Shortcuts)
Truly Here And Now: Enjoy a clutter-free experience without distractions!
Own Your Data: Your meditations are safe and secure in Apple Health.
Live in the present moment and let go of overthinking and worries - embrace the serenity of now.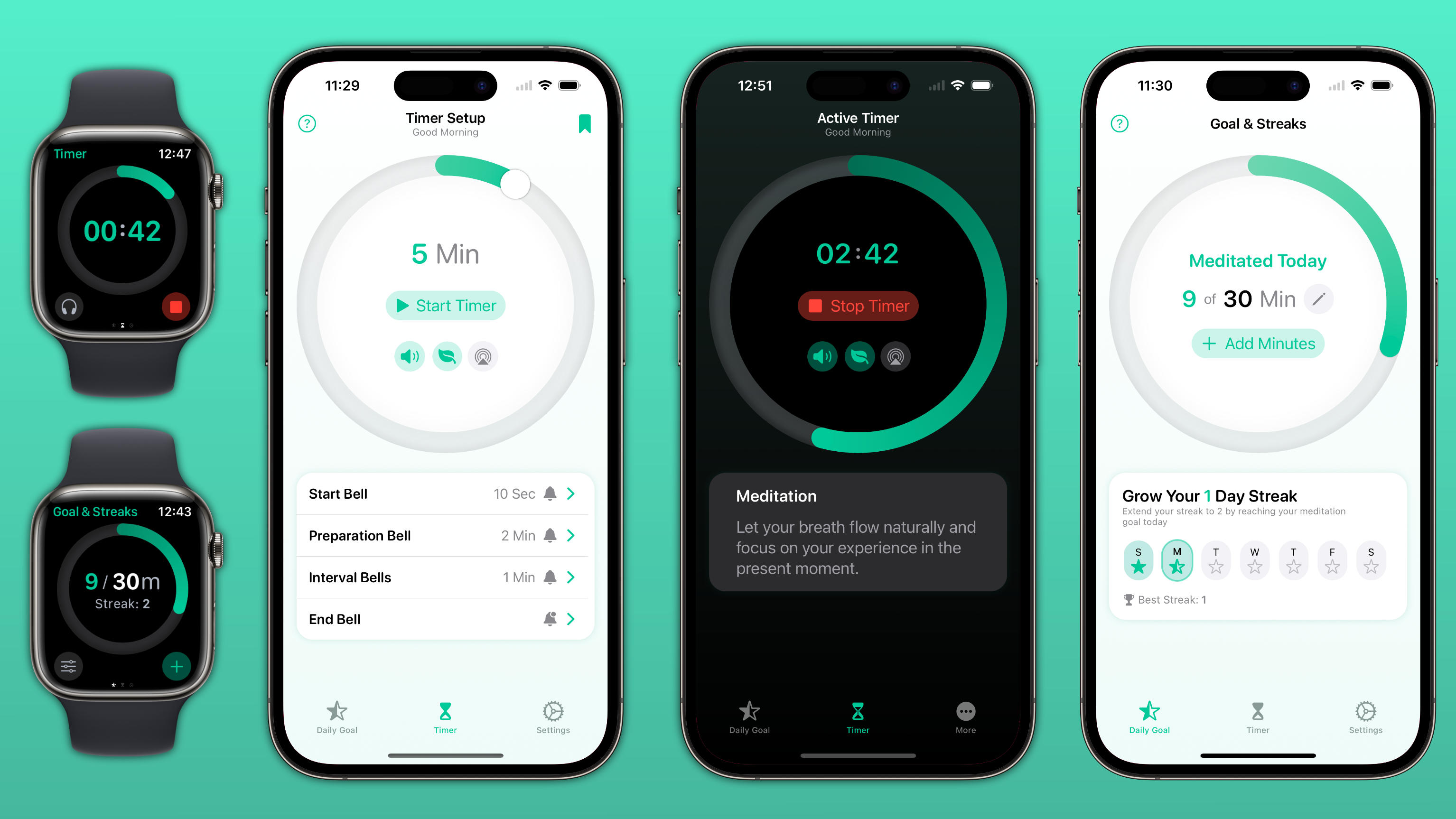 Feature Overview
⌛️ Meditation Timer
Customize duration and different meditation stages
Selection of calming background sounds
Interval bells help you return your focus when thoughts drift off
⚙️ Meditation Routines
Save favorite timer presets as routines
Quickly start routines in the app, via Home Screen widgets or Siri Shortcuts
🏆 Daily Goal and Streaks
Set your daily meditation goal
Reach your goal to grow your meditation streak
Meditate at least one minute a day to keep the current streak (even if you don't reach your goal)
Easily keep an eye on your progress with Lock Screen & Home Screen Widgets and Watch Complications
Manually log meditations: You were just mindful on a walk? Quickly log 10 mindful minutes with Zenitizer.
🍎 Deep Integration with the Apple Ecosystem
Synchronize mindful minutes with Apple Health
Use Shortcuts to automate your meditation sessions (e.g. set HomeKit scenes and Focus modes during a meditation or automatically start a 5 minute meditation when you wake up each morning. The possibilities are endless!)
Start a meditation through Siri with just one command - even from your HomePod! "Hey Siri, meditate with Zenitizer"
Stream meditation sessions + background sounds to AirPlay speakers or Smart TVs in your home
Fully accessible UI: My goal is that Zenitizer is not only usable but convenient and easy to use by anyone. I integrate Apple's accessibility APIs and regularly test the app with assistive technologies like VoiceOver
🔒 Privacy-Friendly by Design
Meditation data is securely stored locally on your devices and in Apple Health
I am neither collecting nor selling user data to anyone. The business model is honest and simple.
Who is this app for?
Meditators looking for an elegant and minimal meditation tracker specifically designed to work and feel right at home on their Apple devices.
User who want to track their progress in Apple Health and who are motivated by daily goals and streaks will find a lot of value in Zenitizer.
Apple Watch users will appreciate that Zenitzer's Apple Watch app was designed from the ground up to provide a great "Watch First" user experience! It is a fully-featured, standalone meditation timer, rather than just a "companion app" or a mere "design afterthought".
Unguided Meditations vs. Guided Meditations?
There is no shortage of existing meditation apps, but most of them are focussed on accumulating large libraries of guided meditation content. Zenitizer does not compete with those, but instead aims to become the perfect tool for tracking unguided meditations on Apple devices.
I have spoken to a number of meditators (especially more experienced meditators who feel they have "outgrown" guided meditations) who told me that they had been looking (and wishing) for an app like Zenitizer for a long time, so there certainly seems to be a target audience for an app like this.
Pricing Model and Zenitizer+
The core timer functionality is available for free but more advanced features (see below) require a Zenitizer+ subscription or lifetime purchase.
Zenitizer+ Exclusive Features
Timer:

Choose from all background soundscapes (free tier only includes "Nature" and "No" background sounds)
Full customization of all stages, bells and interval timings (free tier only includes adjusting the "Start Bell" stage and overall timer duration)

Routines for stroing (and quickly loading) timer configurations as presets
Manually logging mindful minutes
Shortcuts and Widgets functionality that integrates with any premium features (e.g. routines or manual meditation logging) will require Zenitizer+. Generally though Shortcuts support and widgets are included in the free tier.
Prices
Prices (US App Store - Other Countries Automatically Set By Apple)
Monthly: 2.99$
Yearly: 19.99$
Lifetime: 49.99$
All plans support Family Sharing, so that multiple members of a household can use all Zenitizer+ features with a single subscription or in-app purchase.
Fact Sheet
Launch Date
May 25th 2023
Supported Platforms
iOS/iPadOS 16.0+, watchOS 9.0+
Pricing Model
Subscription with lifetime option and free tier
Discount Code (50% off yearly)
LAUNCH
Supports Family Sharing
Yes! (All Plans)
Languages Supported
English (localization planned for future update)
---