MacroFactor is the macro tracker and nutrition coach that adapts to your metabolism.
Reach your diet goals with the smartest macro tracker and nutrition coach.
With MacroFactor, you can easily track your meals with an ultra-fast food logger and verified food database. Simply log your nutrition and weight, and MacroFactor's calorie recommendations will adapt to changes in your metabolism, so you never plateau.

Food Logger: Accurate food database and quantifiably the fastest food logger on the market.
Macro Planner: Personalized recommendations and diet programs designed by experts.
Nutrition Coach: Weekly macro adjustments keep you on track toward your goal.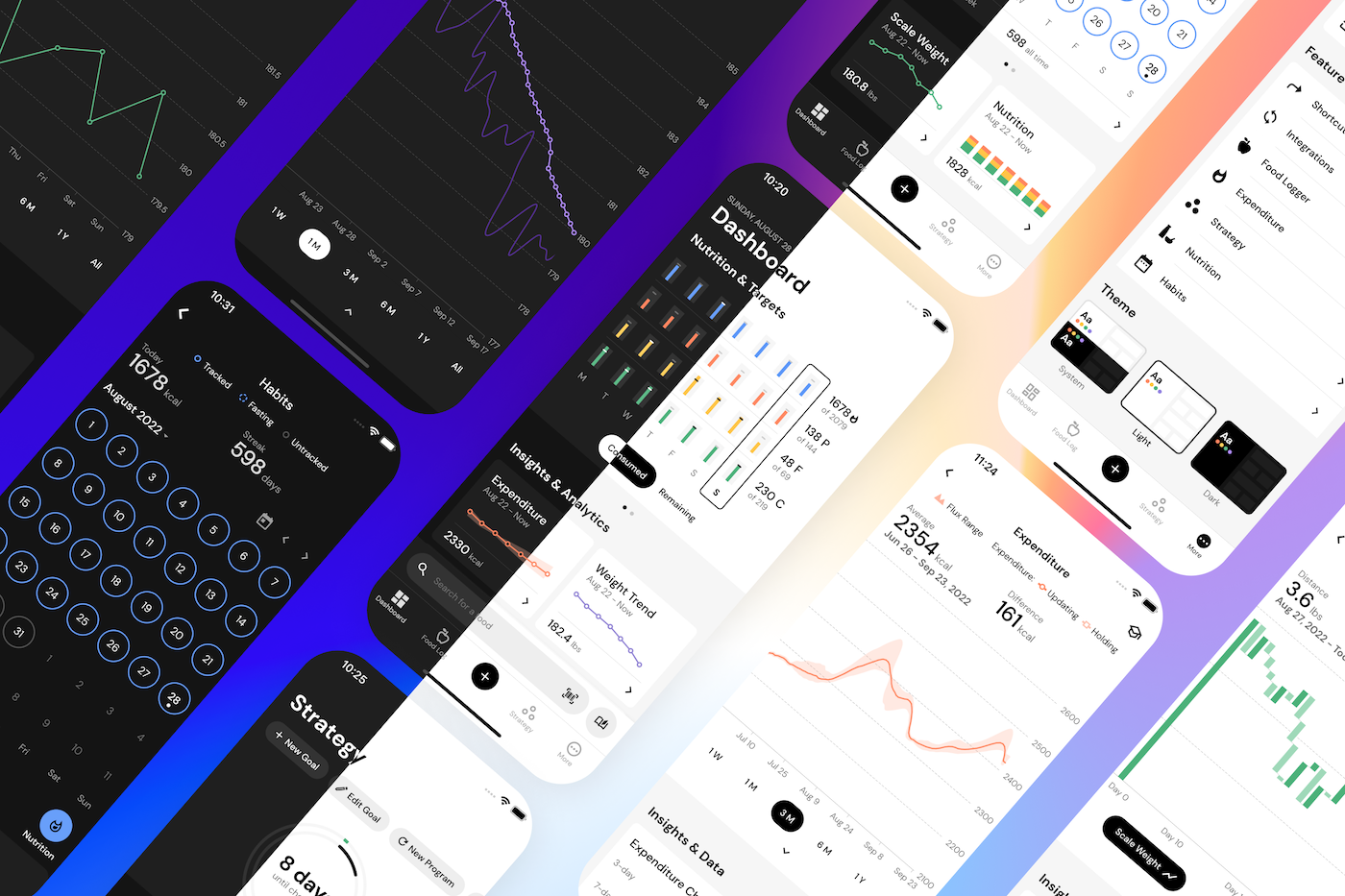 What makes MacroFactor different?
MacroFactor is one of the only nutrition apps that keeps pace with your ever-changing energy needs to ensure that your calorie targets are appropriate for your goals.

Unique energy expenditure calculation detects changes in your metabolism better than wearables.
Smart algorithms personalize your calorie and macro intake targets, just like a nutrition coach would.
Weekly check-ins fine-tune your macros and keep you on track toward your goals.

The result? You better understand your body's needs and can successfully reach and sustain your goals without stress.
The fastest food logger on the market
This is not a cheeky marketing slogan.
MacroFactor's food logger was designed to have the fastest food logging workflows and to be as efficient and intuitive as possible.
The MacroFactor team analyzed 20 food loggers, including all market leaders, to guarantee that MacroFactor is quantifiably the most efficient and fastest food logger on the market.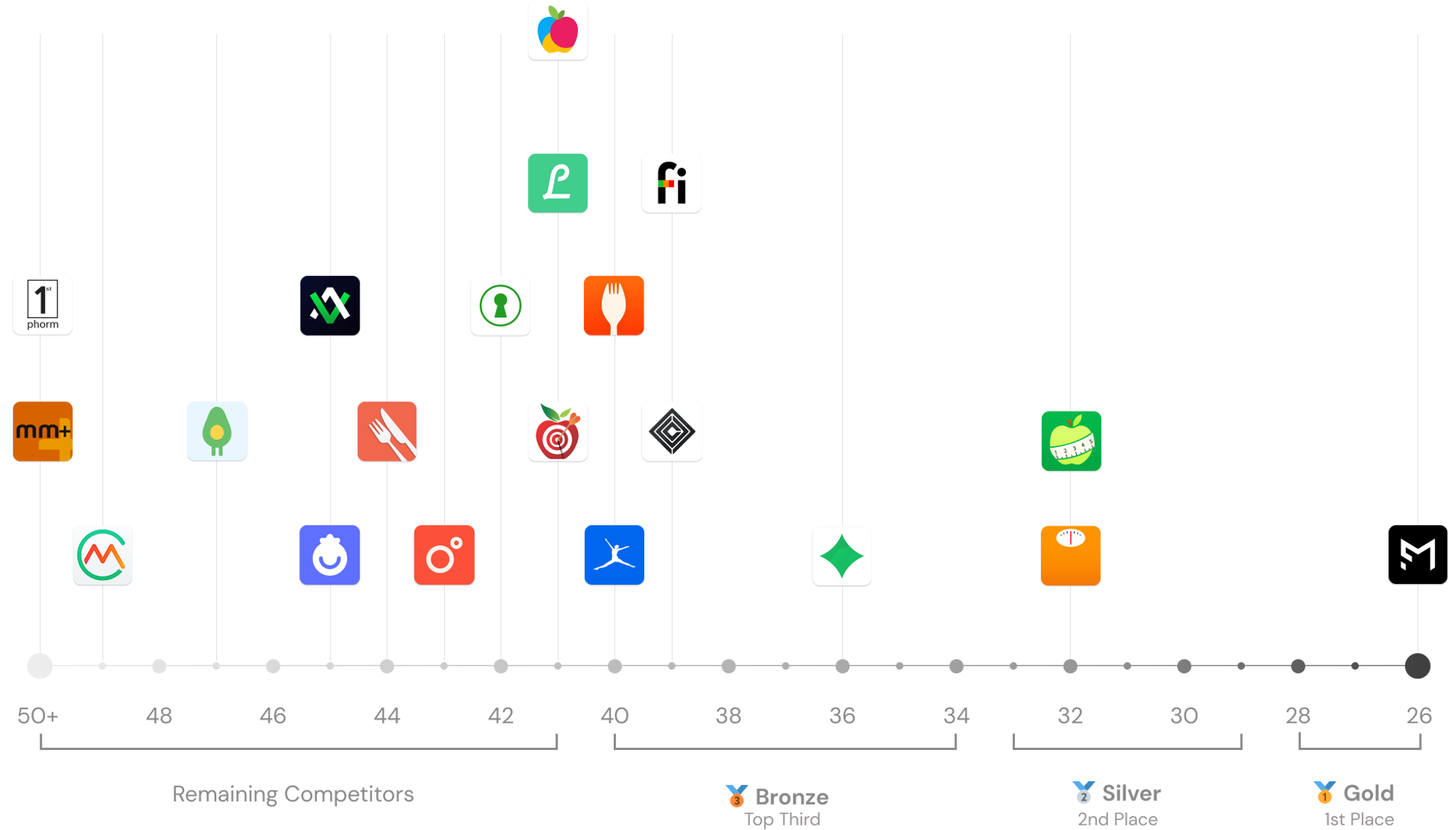 Above: Across the four most common ways users log food – via barcode scanning, search, multi-add, and quick-adding calories and macros – MacroFactor requires the fewest discrete actions. (This analysis was performed in May 2022.)
The best tools for macro tracking
In addition to the unique expenditure estimate and dynamic nutrition coaching algorithm, MacroFactor users also get best-in-class macro tracking tools that make food logging a breeze.

Advanced food logging tools like barcode scanning, copy and paste features, smart history, "AI describe" that allows you to log via your voice or plain text, quick add, and more.
Verified food database, so you can trust the accuracy of the foods you log.
Macro programs for every diet preference, including low-carb, keto, carb-focused, and more.
Detailed breakdowns of micronutrients, so you can track vitamins, minerals, alcohol, caffeine, water, leucine, fiber, omega-3s and 6s, cholesterol, choline, and much more.
Who is this app for?
Anyone looking for a more sustainable approach to nutrition tracking. You don't have to eat like a robot or perfectly adhere to your macro targets in order to get your weekly coaching check-in and an appropriate calorie adjustment.

MacroFactor's algorithms don't function any worse if you deviate from your macro targets.
You'll never see warnings, red numbers, or shaming when you go over your calorie or macro targets.

Instead, MacroFactor aims to empower you with the guidance and tools you need to reach your goals without stress or rigidity. The app uses a sustainable approach that relies on science, not shaming.
People who want to build better habits and better understand their body. The app's expenditure calculation detects changes in your metabolism better than wearables, and users get unique health insights for weight trend, nutrition habits, micronutrient consumption, and menstrual cycles.
Pricing
MacroFactor is a premium, ad-free app that offers three auto-renewing subscription options:
$11.99 / month
$47.99 / half year
$71.99 / year (equal to $5.99 a month)
MacroFactor has a 7-day free trial, but does not offer a free subscription tier.
Fact Sheet
Trial Details
7-day free trial
Price
Starting at $5.99/month
Platforms
iOS 12+, Android
---