Simple and powerful document scanner with text recognition and PDF export
Scan documents, export PDF is simple document scanner to quickly digitize any important documents.
It features automatic text recognition allowing to quickly act on the scanned contents and its full export. Scans are automatically uploaded to iCloud Drive for backup and can be exported as PDFs.
Version 3
Scan it was redesigned with version 3.0.0 based on the feedback from Apple designer. I have attended the "Ask Design Evangelism" session in late November 2022 and got a lot of valuable feedback. The result was UI simplification and UX tweaks.
Features
Text recognition (iOS 13+)
Live Text (iOS 16+)
Export as PDF
iCloud Drive upload
Quick actions to share scans
Full-screen viewer with zoom
Automatic document detection
Ability to adjust edges right after scanning
Lock Screen & Home Screen widget
iPad features
Drag & drop - option to drag scans from the grid and also from detail (along with recognized text)
Multitasking sizes support
Grid with adjustable item size for maximum flexibility
Uses official Apple document scanner
The app uses Apple-provided screen to scan documents ensuring high-quality output and reliability. Same scanner is found in the Notes app for example. It supports multiple scans in one-go, edge adjustments, filters and more.
Text Recognition
Text recognition uses Apple VisionKit framework and gets better with every iOS release thanks to hard work by Apple's engineers. Many languages are supported and can be customized per-scan to get the best possible results.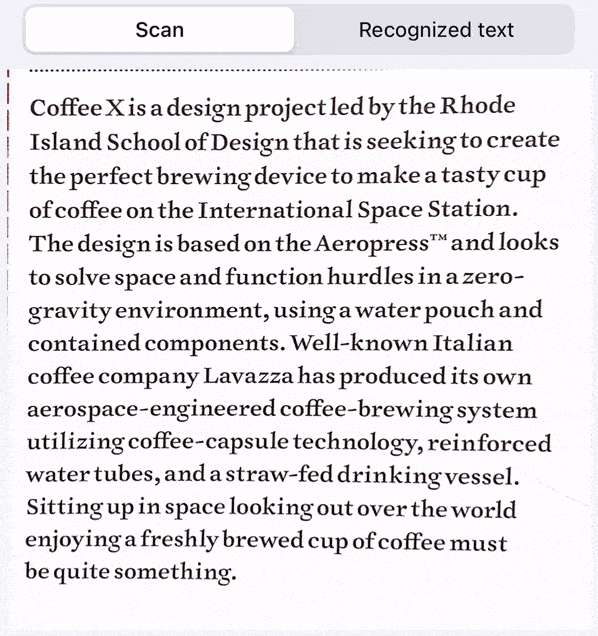 The app applies custom formatting to recognized pieces of text to try to present in as nice format possible.
Pricing
Free with limit of five scans each month. Single in-app unlock to remove the limit, costs 4.99$.
Fact Sheet
Platforms
iOS 13+, iPadOS 13+
Apple technologies
VisionKit, Live Text, PDFKit, iCloud Drive, Spotlight
Widgets
Lock Screen & Home Screen
---