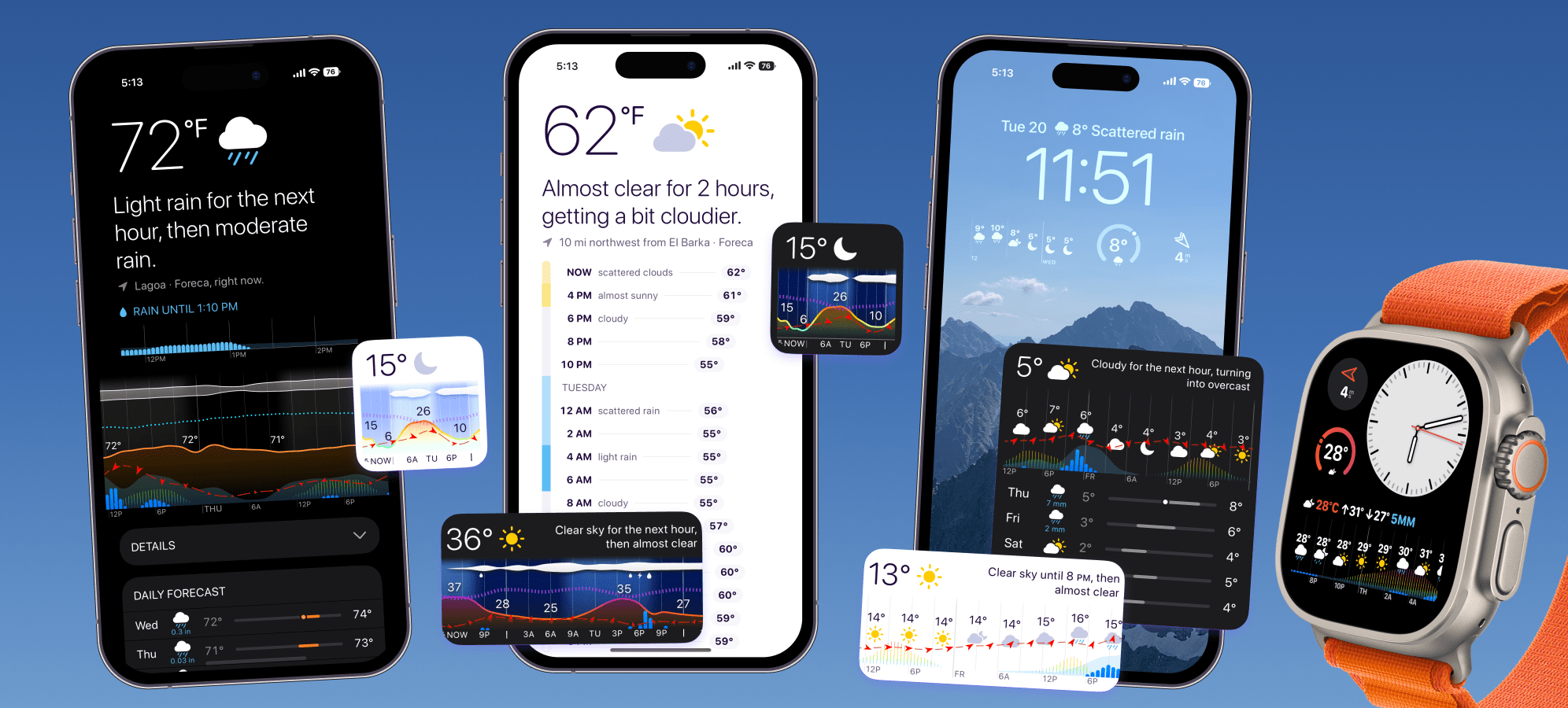 Detailed & customizable indie-made hour-by-hour weather forecast app, with beautiful widgets and Apple Watch complications.
Deemed by many to be the "app that makes their watch worth wearing". Weathergraph is beloved by hikers, runners, bikers, kite surfers, pilots, and many outdoor enthusiasts around the world for its at-glance readability and customizability.
Weathergraph allows you to pick out from a range of forecast metrics, and style them in a variety of visual themes.
The app also comes with home screen and lock screen widgets for the iPhone, and watchface complications for Apple Watch, making the hour-by-hour weather outlook the first thing you see on your favorite Apple device.
Apart from iPhone and Apple Watch, Weathergraph also supports iPad and M1 macs, letting everyone put a widget onto iPad screen or Mac sidebar.
Made by a privacy-conscious independent developer, Weathergraph doesn't use ads or tracking, and shields its users from the forecast services.
Features
Current conditions display with a terse text summary of what's next

Detailed hour-by-hour chart with 7-day weather outlook

Daily forecast with precipitation totals for each day and a bar chart display of min & max temperatures

Nowcast (real-time rain & snow forecast updated every 15 minutes)

Rain & snow alerts based on nowcast data (watch-only so far, coming up to iPhone and iPad)

Vertical layout reminiscent of the recently shut down Dark Sky app

Home screen widgets for iPhone and iPad, with looks and zoom levels customizable

iOS 16 Lock screen widgets of all form factors (update coming up in a few days)

Apple Watch complications, including the large central chart for the modular watchface

Apple Watch Ultra support

Offline capability - venture out to a wilderness (or just go on a hike with a wifi-only Apple Watch), and see the display updated with a most recently fetched forecast, kept for up to 24 hours. The data refreshes automatically once a connection is available.

Background updates so that the weather shows up with no loading delay

Large set of looks and themes, ranging from monochrome and minimalist to full-color gradients matching the temperature

Icon chart theme as an alternative for everyone who preferred apps like Weather Line

Dark and light mode support follows the iPhone, or allows the user to pick a preferred mode independently
Comprehensive set of weather metrics
To pick for a display in a chart:
Hour-by-hour temperature and precipitation — (rain, and snow)

Cloudiness (cloud cover) and sunshine (clouds on top + sun rays)

Wind speed and direction as directional arrows, with a standalone lock screen widget and watch complication

Dew point with a dew point comfort scale

Atmospheric pressure, shown either as absolute value or direction and rate of change

UV index to watch for sunburns

Real day/night (sky color) at a current location as a chart background

Daily temperature minimums and maximums (overlaid above chart)

Actual temperature and location

Sunrise and sunset times
Future plans
Full-screen chart in landscape mode

Multiple location support

Weather alerts on an iPhone and iPad
Weather services
Apple Weather - a fresh weather service from Apple, based on the recently acquired excellent Dark Sky data

Foreca - a great forecast provider from Finland, aggregating national weather providers. Excellent in Europe and consistently ranking among the top 3 weather services by accuracy for the US by forecastadvisor.com

Open Meteo - up-and-coming indie weather forecast service, rapidly adding new datasets and improving the precision every month

Dark Sky - a beloved weather source, that will be kept as a weather source as long as Apple lets the service run

Yr.no - free forecast service from the Norwegian meteorological institute
Who is Weathergraph for?
Hikers, runners, bikers, kite surfers, pilots, and many outdoor enthusiasts around the world love the at-glance readability, customizability, and reliability.
Weathergraph is offline capable - the app caches the last acquired forecast for up to 24 hours, allowing you to hike or run outside of the network (or go running or biking with a wifi-only Apple Watch) and still see the most recently fetched data. The data refreshes automatically once a connection is available.
All data updates automatically in the background so that Weathergraph always shows the up-to-date forecast instantly.
... about the Weathergraph
Excellent selection of colors and graphs.
Graphs are the best way of visualizing data and this app uses them brilliantly.
Presenting the weather forecast this way makes so much more sense than anything I've seen before.
Both on iPhone and Watch, Weathergraph's visuals and approach are somehow both simple and comprehensive, offering quick access to all weather information across a useful timeline.
In one complication on my watch, I can easily read see the temperature, "feels like" temperature, humidity, probability of precipitation, precipitation amount and type, atmospheric pressure (or change in pressure) UV index, cloud cover, daylight, wind speed, and direction - for a whole week!
The amount of detail that has gone into creating this app and the amount of customization that is available with this app is amazing.
... about the app developer
Frequent updates and improvements are a plus.
Tomas keeps adding new features and choices for users to tailor their apps to their individual preferences as we didn't know we needed them. Great stuff! Keep it coming!
Major bonus points to the app developer for actually listening to feedback and incorporating it in a timely manner … kudos!
Pricing
The app has a freemium model, with a selection of features, themes, and free Yr.no service available to free users without any time limitations.
Weathergraph offers either a yearly subscription (with a 7-day free trial period), or a one-time Weathergraph Forever option to unlock:
commercial weather sources
all the features (like wind direction in chart, more chart customizability)
more watch complications
and all visual themes for the chart
Privacy and author
The app is made by an independent developer (Tomas here - just write me an email at tk@tomaskafka.com) and cares about user privacy as much as the author does.
I take great care to not know anything about you because this is how I want every other app on my phone to behave as well.
Weathergraph's servers shield you from the possibility of being tracked by forecast service (as all the requests are stripped of any IP addresses or headers that could identify a specific device) and do not store any locations or personally identifiable data.
Weathergraph also doesn't serve any ads or use any third-party tracking or analytics library.
Read more details in Weathergraph's privacy policy.
Fact Sheet
Supported platforms
iOS/iPadOS 14+, WatchOS 7+, MacOS 12+ (M1)
---
Continue to images