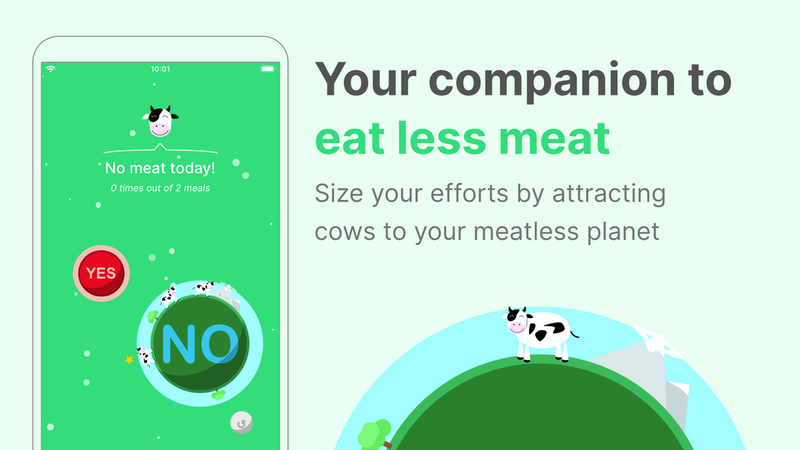 No Meat Today is a companion app for people who want to eat less meat, whatever meaning they put behind "less" and "meat".
From the opportunistic vegetarian to the future vegan, from those who want to change their diet entirely to those who simply want to follow and control their consumption, No Meat Today got you covered.
Users just tell the app if they had meat or not by hitting (not too hard) planets, and you attract or scare away, cute cows.
No Meat Today is fun, non-judgmental and take as little of your precious time as possible.
Why would I eat less meat?
Many meat lovers come to realize they're eating too much for their own sake.
And they're right. We're eating twice as much meat as we did 50 years ago. The average American adult consumed 66% more protein than the daily requirement, but 1/5 considered themselves deficient in protein.
Widespread overconsumption bears all sorts of negative impacts. From your health and finances to environmental issues (GHG emissions, animal welfare, wildlife endangerement, land use, water use, antibiotic resistance…).
And then there is the ethical question, which has been on the minds of great thinkers for a long time, and some of whom imagine that doing without animal proteins is the future of man.
So, who is this app for?
It's for way more people than I imagined at first!
For example:
people who want to try/find a new balance, from 1 meal a week to 95% plant-based, and use the app to keep that balance
people who need to transition to a plant-based diet for health reasons and use the app to do it over the course of a couple of months
vegetarians who want to go vegan and use the app to track dairy/eggs intake
vegetarians/vegan who just love getting cows and the feel-good vibe of answering "no" to the question "Did you eat meat today?" every day
Why would I need this app?
Even though each meal is an opportunity for change, it's hard:
you're not always sure what your new meat consumption baseline should be at first
your baseline and the mix of meat you include/exclude can change over time
giving up meat entirely is not always realistic: family constraints, work obligations, lack of nutritional knowledge
or sometimes it's not even what you want to do
meal planning is hard and changing your routines entirely at once is a big hurdle
No Meat Today makes this easier:
it facilitates an opportunistic approach: every effort matter, even the occasional meatless meals counts
it makes you feel in control by giving you a sense of how your diet changed
it provides the right amount of challenge
it helps you find a balance that works for you
Features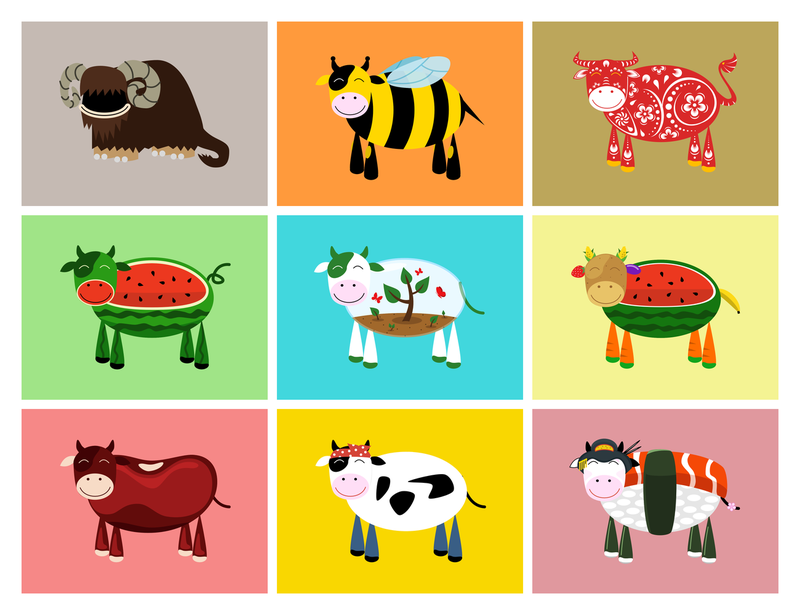 A simple tracker: it can be as simple as one tap from a notification and you're done for the day
A pocket universe with a "No Meat" planet where you attract cows
A personal definition of what "meat" is: 🥩🍗🥓🐟🥚🧀
A history view to help maintain a balance and make an informed choice for next meal
Challenge selection: from 1 meatless day a week to 7. The cows will be scared more or less easily when user eats meat.
A population view to see all cows and the progress made
Get personal with your cows: rename, favorite, and share them
Random daily messages (mostly puns)
Random cow names
Stylish cows to celebrate international/local dates, events and people
Seasonal themes
iCloud Sync
Apple Watch app
Widgets
Notifications with sound interruption levels
Home Screen Actions
Localization
English (Default)
Chinese Simplified
French
German
Italian
Spanish
Pricing
No Meat Today has a Freemium subscription model, with monthly and yearly and pricings. Family Sharing is enabled for both.
The free version is suitable for casual usuers and offers more features than the developer had for 2 years prior to releasing the app, which means it's more than enough to get started.
Paid subscribers enjoy additional features and content:
more stylish cow designs
more variety in the daily messages
more random cow names
break the day into multiple meals
make the app less tolerant to meat eating
edit past entries (although missed days are always free to edit)
remember cows that were scared away
5% of the income goes toward NGOs acting in favor of planet conservation.
Who made the the app?
Arnaud Joubay, a French indie dev and a self-taught iOS developper who designs + codes everything with his dog sleeping on his feet and hoping new cows will get him a twinkle his daugther's eye.
---
Continue to images