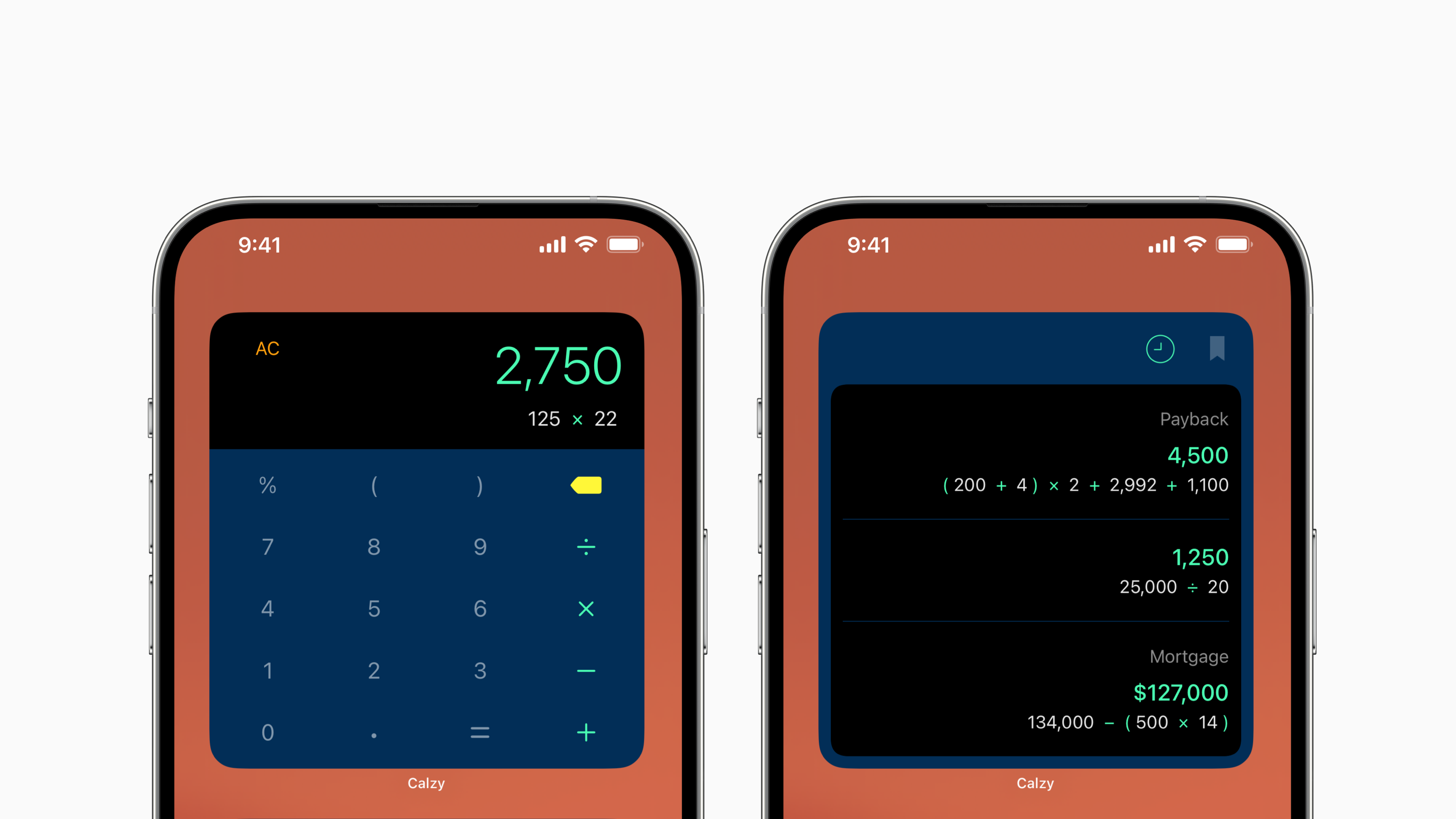 Calzy 3.8 updated with the following features:
Added support for iOS 17 and watchOS 10.
Added support for Interactive Widgets.
Added three themes for home screen calculator widget - Classic, Bordered, Modern.
Added three keyboard style for home screen calculator widget - Basic, Business, and Minimal.
Added lock screen widget support for iPad.
Added support for the latest iPhone 15, Apple Watch Series 9 and Apple Watch Ultra 2.
Calzy Description
Calzy is a beautiful modern calculator for your everyday use. It helps you perform your day-to-day mathematical calculation more elegantly. One of its novel features is "Memory Area" - where you can store multiple numerical values and reuse them across multiple calculating sessions with a simple drag and drop interaction. Along with calculation history, It has a unique bookmarking feature - Where you can save any of your calculations with date and title for your future reference. Calzy can spell out the calculation result in English & 65 other languages. It is designed to look gorgeous on your iPhone, iPad, and Apple Watch. It is powered by all the latest iOS technology like Drag and Drop (for both iPhone & iPad), Haptic Touch, Face ID, and much more.
Features
"Memory Area" - where you can drop multiple numerical values and reuse it
Advanced scientific function (Quickly toggle between basic and advanced mode with Haptic touch. No more rotating to landscape)
Drag and Drop on both iPhone & iPad
Multitasking - slide over and split view for iPad
History & Bookmarking with privacy mode (Face ID/Touch ID support)
Ability to edit keypad layout
Haptic Feedback
Spell out (English & 65 other languages)
Tax + , Tax - functions
Quick toggle for both decimal and currency rounding
Today widget and iMessage extension
Smart parenthesis
Spotlight search
Apple Pencil 2 support (Double Tap Customisation)
External Keyboard support (Press and hold the Command key to see shortcuts)
Dynamic type support
Custom App Icon support
Universal app - iPhone, Apple Watch, and iPad
Handoff support - Start on one device and resume it on another device
iCloud sync for basic settings and history/bookmarks
Dark / Light mode with multiple color schemes
Regional support for countries using decimal commas
Instant. Calculates as you type
Functional and easy to use
Clean Interface & Natural gestures
Advance, yet simple and uncluttered
Powered by the latest iOS technology, Calzy is the calculator for the new age.
Localization
English (Default)
Chinese Simplified
Japanese
French
German
Russian
Pricing
US$4.99
About the Developer
Raja V, an indie developer, and designer behind the apps like Calzy, Lumy, and Currenzy. Calzy won Apple Design Award in 2018, and Apple featured Lumy for its beautiful complication on its Apple Fall Keynote 2020. Currenzy (previously named Stacks) was selected as the best of 2015 by the Chinese AppStore.
Fact Sheet
Supported Platforms
iOS 15+, iPadOS 15+, watchOS 8+
Privacy
Data Not Collected
---
Continue to images