Introducing Sonar: The Future of Music Discovery and Social Sharing
Today, Sonar Media Inc. is thrilled to announce the recent release of Sonar, a revolutionary app that transforms the way music lovers discover and share music. Built for the modern mobile user, Sonar leverages the streaming portals of Apple Music and soon, Spotify, to offer a unique, social music-sharing experience reminiscent of MySpace's golden days, but designed for today's digital world.
Introducing Echo: Revolutionizing Your Music Discovery with AI. Echo, our newest feature in Sonar, is an AI-powered playlist builder designed to uncover the hidden gems in music, tailored just for you.
What is Sonar?
Sonar is a mobile-only app that elevates the music listening experience by integrating it with a social sharing platform. It allows users to discover music they wouldn't find elsewhere and share their favorite tunes effortlessly. Sonar plays music directly from streaming providers and enhances each user's experience by enabling them to create personalized social profiles for sharing their current listens with friends and followers.
Core Features of Sonar:
Your Profile: Customize your personal music profile. Showcase your favorite songs, artists, and albums.

Explore Feed: An endless, swipable feed of songs posted by others. Swipe right to add songs directly to your library, with filters for genre and user demographics.

Echo, the AI Playlist Builder: Powered by ChatGPT, Echo crafts perfect playlists based on any request, editable and savable within Sonar.

Social Interaction: Follow users, view their latest music posts, and never miss out on new music shares.

Integrated In-App Chat and Sharing: Seamlessly share music and chat within the app.

Extensive Search Functionality: Access the full music collection of your streaming service and play via Sonar.

Sonar Library: Interact with music through 'Add', 'Favorite', and 'Save For Later' options.

Leaderboards: Earn stars for sharing popular songs and feature on Daily and Weekly leaderboards.

Sonar Editorial: Find our editorials top picks, including our favorite songs, artists, playlists and Sonar users to watch out for!
Who is it for?
Sonar is designed for music enthusiasts, including casual listeners, collectors, and explorers. It caters to individuals passionate about discovering music, connecting with like-minded fans, and sharing their discoveries. Currently available for Apple Music users, with Spotify integration expected in Q1 2024.
Sonar has been tested and embraced by various users, from casual listeners to industry professionals. In short, Sonar is designed for those looking to share their favorite tunes, explore new sounds, or connect with a community of music lovers.
Pricing and Availability
Release Date: November 13th, 2023.
Pricing: We offer subscriptions at $19.99 USD yearly, or $1.99 USD monthly. Both options include a 3 day trial. Most core features are free, with limitations. For example, the Explore Feed allows Free Users to swipe through up to 25 songs per day. The free version also limits users to being able to follow up to 15 users.
The main paid service in the app is our A.I Playlist Maker, Echo. Access to Echo is behind the subscription paywall.
Available Territories: Everywhere the App Store is available besides Mainland China as we do not have authorization to launch ChatGPT related products. Currently, Sonar is only localized for English territories.
iOS and iPadOS Support: Requires iOS 16.4 or higher.
About Sonar Media Inc.
Sonar Media Inc., a brainchild of Chris Palumbo and Jason Markey, has rapidly evolved from a passionate indie-developer project into a trailblazer in music technology. Chris, an emerging tech entrepreneur, and Jason, a respected name in the music industry, have joined forces to redefine the way we experience music. 'Our vision with Sonar is to blend the joy of music discovery with the thrill of social sharing, creating a platform that resonates with every music enthusiast, and democratizes music discovery once and for all,' says the two.
Further Information
We at Sonar are excited to introduce a groundbreaking development in AI playlist curation: personas. Leading this innovative approach is our first persona, Echo, a digital music maestro. In her own words, Echo is dedicated to uncovering uncommon and underrated music, and she's here to guide you through a world of unique soundscapes and hidden musical gems. Her appreciation for music knows no bounds, spanning across all genres, but she has a particular fondness for exploring underground and alternative sounds, where creativity and innovation often thrive away from the mainstream spotlight.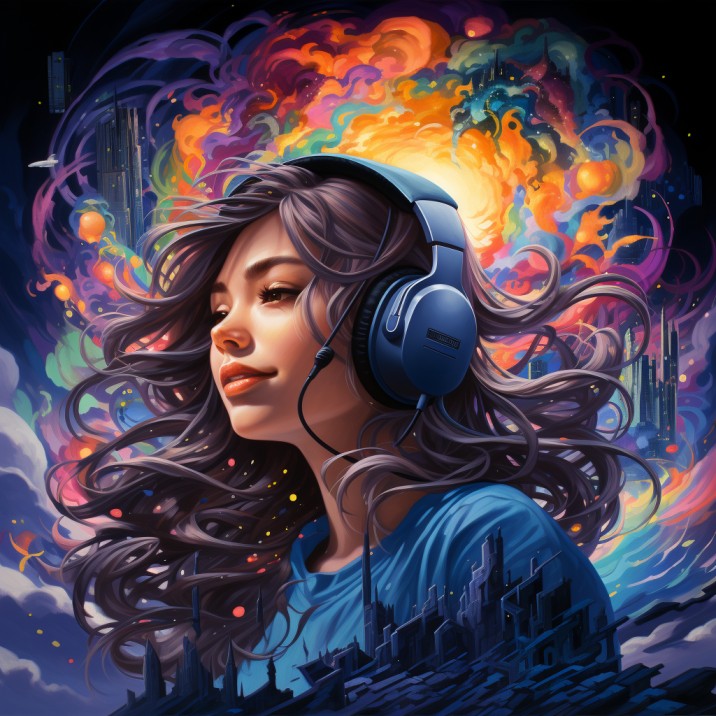 We've designed Echo with a focus on music discovery, allowing her to naturally gravitate towards the unheard without needing explicit instructions. While this approach can be incredibly rewarding for those seeking new and unique musical experiences, we understand that it might not be the desired outcome for every user. That's why we're committed to evolving and diversifying our persona lineup to ensure a resonating experience for everyone. Keep an eye out for future personas that cater to different musical preferences and interests!
This breakthrough in playlist curation was born from our collaboration with Collaborative Dynamics. Much before OpenAI's 2023 DevDay where they annouced "GPT's", the team at Collaborative Dynamics discerned a crucial insight: generic, robotic instructions given to ChatGPT yield generic robotic results. By ingraining our ChatGPT-powered A.I with distinct personalities rather than explicit directives, we found the key to generating inspiring and meaningful playlists.
As we continue to innovate and expand our persona lineup, we acknowledge the vital role of user interaction and feedback. Your insights and preferences are crucial to this innovative venture. We look forward to your feedback on the types of personalities you'd like to encounter and how they might shape the music recommendations you receive. Imagine the possibilities with an array of distinct personalities, each unveiling a different musical world.
Stay engaged for more updates as we continue to introduce new personas, each offering an exclusive journey through the sonic universe of Sonar.
Contact Information
For inquiries, please contact Jason Markey at jason@sonar-me.com, or use the contact form on our website's contact page.
---
Continue to images