Browser Actions
Supported platforms: macOS 13.3+
Pricing model:
Free download with 14 day Trial Period + 20 day Extended Trial Period
One-time license for personal use
Subscription for commercial use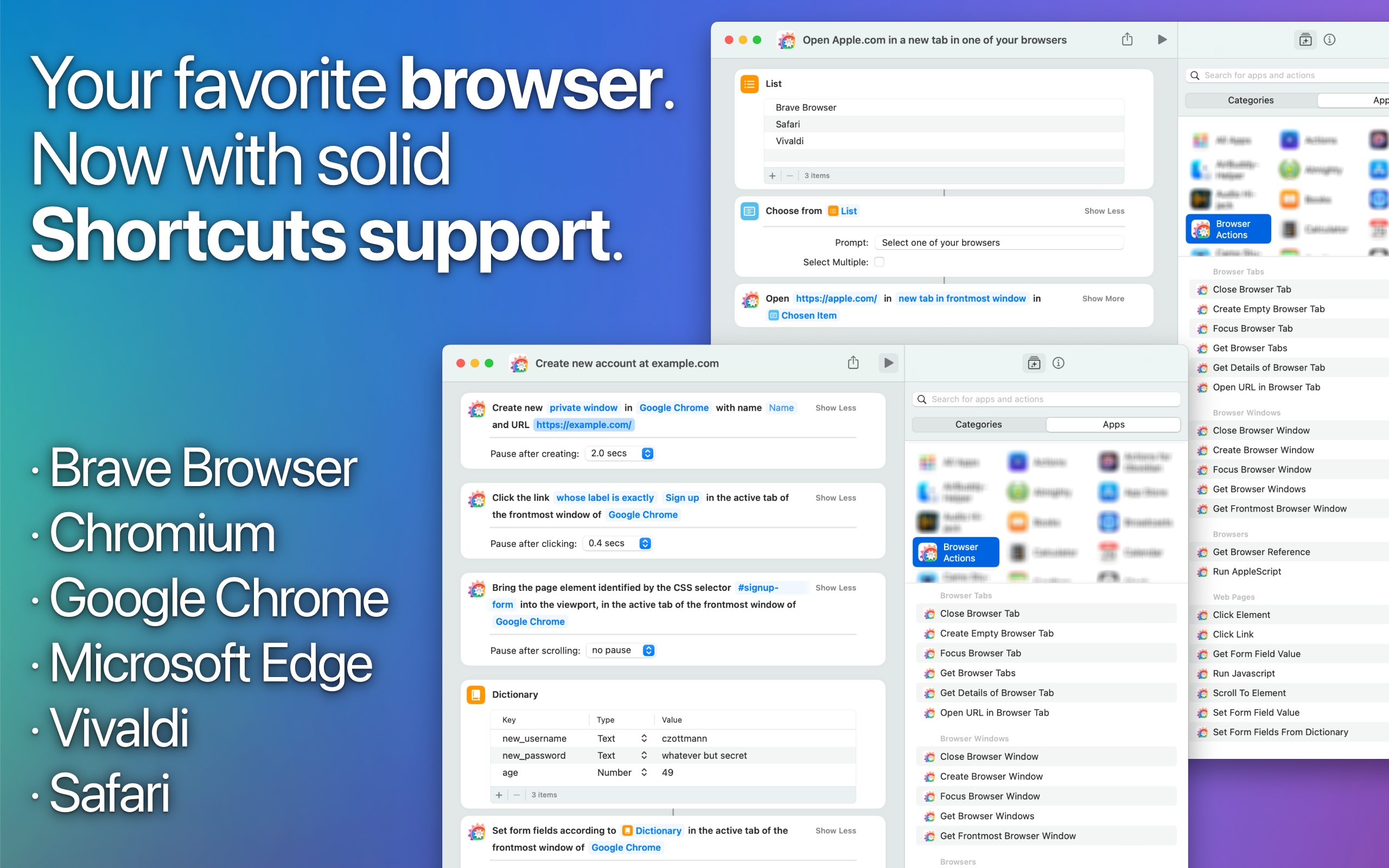 Your favorite browser, now with solid Shortcuts support
Browser Actions introduces Shortcuts actions for Brave Browser, Chromium, Google Chrome, Microsoft Edge, Vivaldi, and Safari. Its actions provide an unified interface to these browsers: Pick an action, tell it which of the supported browsers to use, and go.
Features
The app adds Shortcuts actions for …
creating, accessing, manipulating, and closing tabs + windows (including support for private windows in Safari)
getting page information, like title, URL, current selection, up-to-date DOM document, all of the text
interacting with web pages
filling out and submitting forms
running arbitrary Javascript in tabs
If you need to switch browsers, you'd just change the target browser in your Browser Actions-powered workflows.
Why does this app exist?
It's a bit wild that even though Apple presents Shortcuts as the #1 automation solution on macOS, almost none of our most-used tools—our browsers—support it. Sure, Apple does provide a few bare-bones actions for Safari, but other popular options like Brave Browser, Chromium (including Ungoogled Chromium), Google Chrome, Microsoft Edge, and Vivaldi simply do not.
My target demographic for Browser Actions is every person who wants to automate their browsers. People who have to fill out the same web forms over and over again. The ones who have 10 tabs open all the time, or 1,000. Those who want to include their most-used application in their Shortcuts workflows, who want to get the most out of it locally, without the need for yet another remote third-party service.
Pricing
The app is free to download from the App Store. There is a 14 day trial period. After the trial period, the Shortcuts actions will start to trigger "Please buy" reminder dialogs. A license removes these reminders.
Licenses are one-time purchases for personal/family use, while commercial use requires a subscription. ("Commercial use" refers to using the app for revenue-generating or work-related activities within a for-profit company or organization.)
---
Developer & Press Contact
Carlo Zottmann, press@actions.work, from Flensburg, Germany.
Please note: It's "Carlo", not "Carlos", and it's "Zottmann", not "Zottman". 😉
(My name is misspelled often enough to make a note about it, yes.)
---
Continue to images