Free App Store screenshot templates: iPhone & iPad
Creating beautiful App Store screenshots with hand-crafted templates below. One for iPhones and another for iPad. Templates are up-to-date for current iPhone 12 Pro and iPhone 12 Pro max and for iPad Pro 12.9 and basic silver iPad.
What is included in templates
Each template contains selection of solid backgrounds as well as a gradients to match the theme of your app. I recommend picking one color/gradient per app. There are also prepared text elements (big and standard font) for additional convenience.
You can download templates below for Affinity Designer, Pixelmator Pro and Photoshop. Simply select the one you want and click to download - no extra steps necessary.
Below is super quick example what is included - just a small part of available colors and gradients.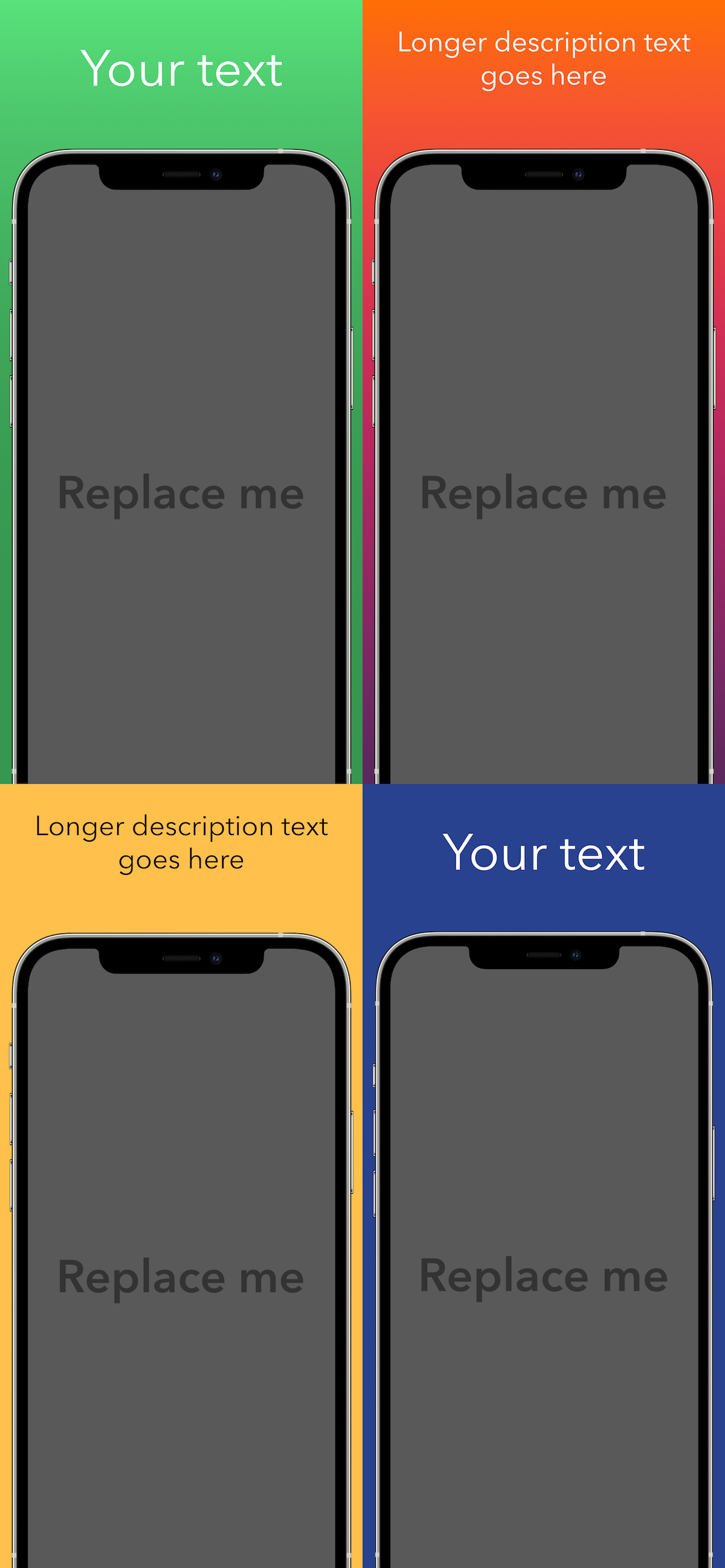 Download template for iPhone
iPhone template for Affinity Designer (smallest file size)
iPhone template for Pixelmator Pro
Download template for iPad
iPad template for Affinity Designer(smallest file size)
iPad template for Pixelmator Pro
How to use
Affinity Designer
Select the "Replace me" layer for device you have screenshots and then click "Replace image" button and select your screenshot. Done!
Pixelmator Pro
Select the "Replace me" layer and then in menu bar Format > Image > Replace image. Done!
Photoshop
Here the replace layers are pixel ones and replacing depends on your workflow. One of the options is to convert this to Smart Object and then replace its content. Or drag and drop screenshot and resize it based on the replace layer.
---
Of course these templates are meant to get you started. Feel free to change the fonts, sizes and more. Just remember to keep the resulting screenshots consistent 👍
I plan to publish more templates in the future - in particular the "white frame" variant and landscape iPad. I also want to prepare some templates for images specifically meant for press kits - mostly the 16:9 headers.
---
More from blog
Homepage