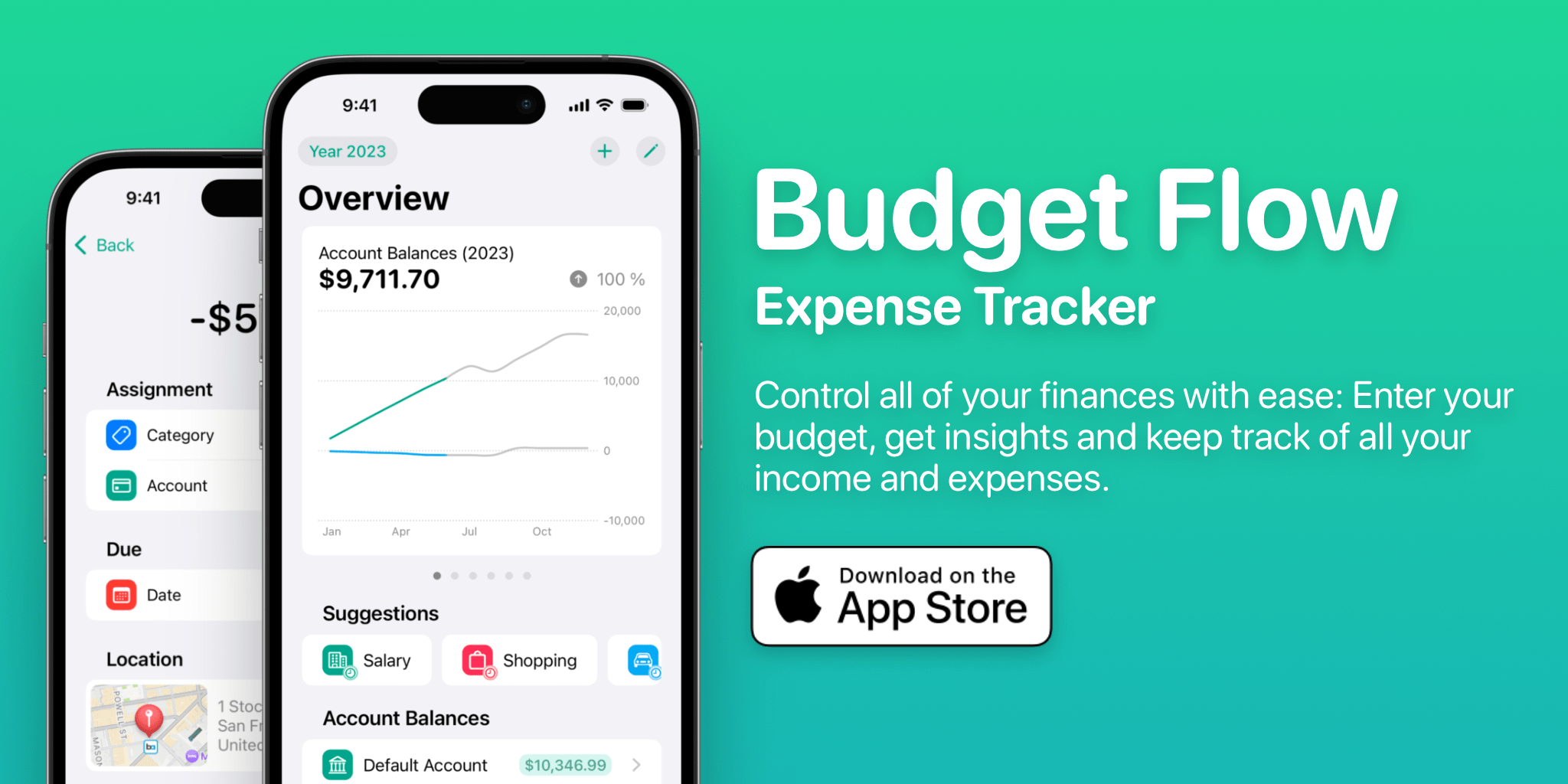 What is Budget Flow?
Budget Flow lets you keep track of your income and expenses and manage them effortlessly. This modern and user-friendly expense tracking app is quick to set up, requires no registration and can even be used offline. Budget Flow is the app for anyone who wants to manage their finances efficiently while maintaining a high level of data security and privacy.
Features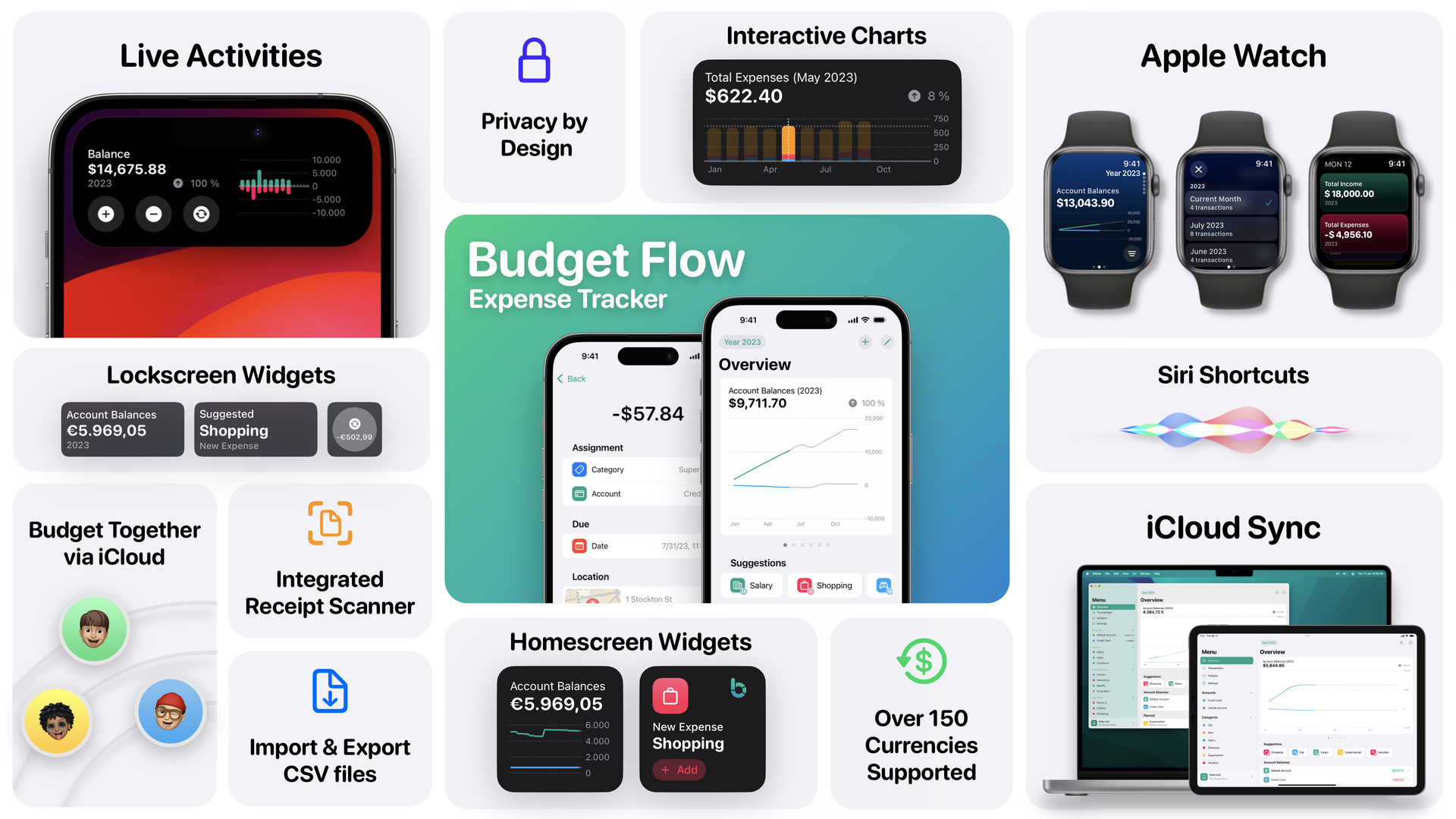 Clear financial management:
Keep track of your accounts, balances and transactions
Configurable dashboard with numerous widgets
Multiple sorting, search and filtering options
Customizable time period for the entire app
Create accounts and categories:
Create multiple accounts and categories
Personalizable with icons, emojis and colors
Organize categories into folders
Easy transaction management:
One-time and recurring transactions
Integrated calculator for accurate entries
Automatic conversion to over 150 currencies
Add photos, locations and notes
Scan receipts including automatic evaluation
Reminders for planned transactions
Budget planning:
Plan budgets for your categories
Choose different recurrence intervals
Shared budgeting:
Supports multiple budget books and users
Share data via iCloud to collaborate with multiple people
Data security:
Secure data storage
No login required
FaceID / TouchID / Passcode support
Other features:
Apple Watch app incl. complications
Mac app incl. keyboard support & shortcuts
Home & lockscreen widgets
Siri shortcut support
Import and export data via CSV file
Numerous personalization options
Seamless iCloud synchronization
Responsive design incl. darkmode
Dynamic text size
...and much more!
Pricing
All basic features, such as creating unlimited transactions and a handful of categories, are available free of charge. However, features can be upgraded with a monthly or annual subscription, or with a one-time-purchase. Following options are available:
$4,99 monthly subscription
$29,99 yearly subscription
$69,99 one-time-purchase
The actual prices may vary depending on your region.
Who created Budget Flow?
Budget Flow was started as a side project and since then it has been completely designed, developed and maintained by me, Fabian Hasse. I am an enthusiastic software developer with over 9 years of expertise. While my main profession is developing desktop applications for vehicle testing and engineering, I am equally passionate about app development.
Why was the app developed?
In my search for an expense planning solution, I tried numerous apps from the App Store, including many from the "top" lists. However, after downloading more than 20 apps, I found that many of them had problems such as critical bugs, unintuitive/outdated user interfaces, privacy concerns, or missing features, so none of them really satisfied me. As a result, I decided to build my own budgeting app that would address these shortcomings and meet the needs of users looking for a comprehensive solution.
Over the course of two years, starting in 2021, I spent countless hours developing the app. During this time, I meticulously refined its functionality, design, and user experience. Today, I am very proud of the final product, which I believe strikes the perfect balance between ease of use, powerful features, and uncompromised privacy.
I'm looking forward to hearing your feedback. Also, if you like the app, feel free to recommend it to your friends / family or on social media. It really helps a lot! 😊
Fact Sheet
Platforms
iOS 16+, iPadOS 16+, macOS 13+, watchOS 9+
Localization
Supports 28+ languages and multiple regions
Accessibility
Dynamic font sizes, display customization and keyboard support
---
Continue to images