CleanPresenter • Mirror one window
Introducing CleanPresenter, present a single window instead of your whole desktop. Show your actual product with a professional look. No more lacklusting fakes, a live demo with CleanPresenter brings your product to life and gives a firsthand look at the pain points it solves.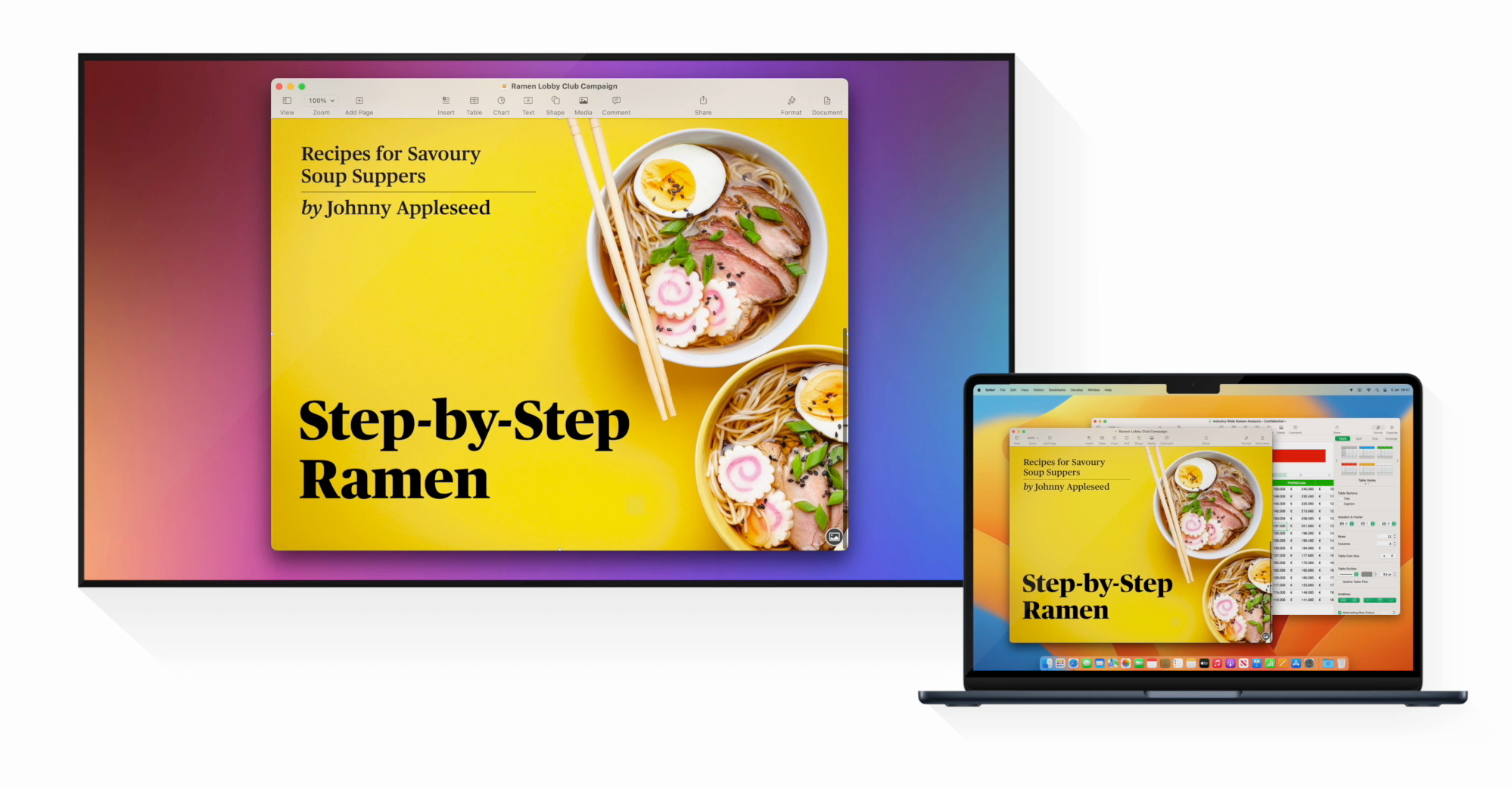 How it works
When presenting on a TV or projector, you select the app that will be displayed on the big screen from the menu. CleanPresenter hides all visual noise from your desktop such as desktop icons, other apps and notifications. The selected app is presented front and center on the big screen on top of a wallpaper from our hand picked selection.
All TVs and projectors are automatically detected when plugged in with Magic Connect. CleanPresenter will take care of all setup, no need to pick a resolution or fiddle with (un)mirror settings. Everything is setup automatically as you plug in, making sure you don't present anything you don't want to.
Features
Impress with stunning, professional looking, live demos of your what you created.
Show one single app, visually centered, on the big screen.
No distractions from other apps, desktop clutter or notifications.
Collection of hand-picked wallpapers to choose from as backdrop.
Automatically starts when connecting to a TV or projector with Magic Connect
More to love
Compatibility with any TV, projector & Apple TV, as well as AirPlay support
Supports online meetings like Zoom/Teams/Meet and presentation hardware like ClickShare
Easily switch between a Keynote presentation & CleanPresenter.
Designed for macOS.
Dark mode support.
Who is this app for?
People who care to show their work the best way possible. Sales professionals, product managers, scrum masters and developers love CleanPresenter.
CleanPresenter is used for, but not limited to, product presentations, sales pitches, scrum demos, collaborative work meetings and demos in all-hands meetings. Developers love to live-code with CleanPresenter.
Who are we
CleanPresenter is created by Nonstrict. The two person company is founded by long time developers Tom Lokhorst and Mathijs Kadijk. They've worked together on Primephonic (now Apple Classical), Rijksmuseum and PostNL during their time together at agency Q42. Now they've set out to create a new generation of great indie apps that are a joy to use.
Pricing
The basic, fully functional app is available as a free download. Upgrade to a Professional subscription to choose your own overlay and wallpaper from our collection. 2 week free trial, then €9,99/year.
Fact Sheet
Release date
April 18, 2023
Supported Platform
macOS 13+
Price
Free download. Optional subscription ($9,99/year)
---